Board of Trustees
The Rangeview Library District is governed by a five-member Board of Trustees, appointed by the Adams County Board of Commissioners, and is responsible for the library district's finances and formulation of policies. Trustees serve a five-year term. The library board meets regularly once per month. View the schedule.
Board of Trustees
Ray Coffey

(303) 433-4661 (H)
ray_coffey@comcast.net
Unincorporated Adams County
Term expires: Jan. 31, 2017
Ray Coffey has worked for the state of Colorado since 1985 as an auditor, accountant and budget analyst. He earned a bachelor's degree from Colorado State University in technical journalism and studied business and accounting at Metro State College of Denver. He passed the Certified Public Accounting exam in 1987. Earlier in life he was a professional and volunteer ski patroller. He also owned and operated a painting and decorating business.
Ray believes free access to information is a cornerstone of democracy. He also believes libraries and the services they provide can be transformational forces in people's lives and are an essential component of a community's infrastructure. As a Board of Trustee, his goal is to help provide great libraries and library services relevant to the 21st century that will enhance the quality of life for all the residents of the library district.
Kerry L. Glenn

(720) 346-3927 (H)
kerry.glenn@adams12.org
Northglenn
Term expires: Dec. 11, 2017
A lifelong resident of Adams County, Colorado, Kerry L. Glenn works for the same school district he attended as a student. After 23 years as a math instructor, Kerry now serves as the STEM Coordinator at Northglenn High School. He is a liaison between district, school, partners and community, and also designs and reviews curriculum and support for problem-based learning.
Kerry received his bachelor's degree from the University of Colorado at Boulder in applied mathematics and aerospace engineering before earning a master's degree in curriculum and pedagogy from the University of Colorado At Denver. In addition to a career as a mathematics educator and STEM educator, Kerry also served as a youth pastor for 20 years.
Kerry believes that access to information can help fuel passion and direction. For him, libraries aren't just about checking out books. They're also about gaining and applying the information to help solve the world's challenges.
Linda Wisniewski
(303) 452-6920 (H)
lggwiskey@aol.com
Thornton
Term expires: January 31, 2019
Linda Wisniewski began her term with the RLD Board in March 2009. She has a business degree with a project management concentration and currently works for the Colorado Department of Labor and Employment.
She is on the executive board of the Thornton Veterans Memorial Foundation, which is building a Veteran's Memorial Park in Thornton. Linda is also on the missions committee at Good Shepherd United Methodist Church, which targets community projects for involvement with the church. Previously, she was also on the executive board of Northern Lights Little League, who built a seven-field ballpark.
Married for 31 years, Linda has three children. Her daughter lives in Savannah, Georgia, with her husband and Linda's grandson. Her first granddaughter is due in July. Linda's oldest son is an Iraq War veteran, who successfully completed two tours in Iraq and is now studying to be a firefighter. Her youngest son is a computer programmer and a musician.
"I have always felt that Adams County libraries lacked a certain direction, and I have watched with great interest the growth of the Rangeview Library District. I feel the positive direction the district has taken is wonderful," Linda says. She looks forward to contributing to help it grow.
"To me, libraries bring the world to its patrons," says Linda. "It starts children in their discovery and wonder of the earth around them and of reading. It allows all people the access to knowledge and the wonders of the world. It is hard to think of a community without a connection to a library."
Lynne Fox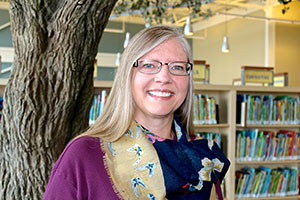 (303) 915-8375 (H)
lynnemfox@gmail.com
Thornton
Term expires: Jan. 31, 2020
A Rangeview Library District customer since high school, Lynne Fox currently works for a bioscience search engine company, providing consulting in training services. Fox is a health sciences librarian, retired from the University of Colorado Health Sciences Library in 2004, bringing first-hand industry experience to her role as trustee. She also served as a Ward 3 Thornton City Council Member from 2008-2013, representing the interests of northeast Thornton residents. Fox is an avid cyclist, tea drinker, and art & architecture enthusiast.
"A terrific public library district is a gift a community gives to itself," says Fox. "It's like every day is your birthday at Anythink, thanks to great online multimedia services like hoopla and Overdrive, learning tools like lynda.com, diverse DVD and music collections, and adult programs and children's activities. Anythink staff are constantly anticipating user needs, with new offerings arriving before we even knew we needed them."
Mizraim Cordero

(917) 741-0307 (H)
airmiz@aol.com
Commerce City
Term expires: Feb. 11, 2016
Mizraim S. Cordero migrated with his parents to New York City in June of 1989 from Santo Domingo, Dominican Republic. Mizraim obtained his bachelor's degree from Lehman College of the City University of New York with a concentration in social work and a minor in sociology. In May 1999, he graduated from NYU's School of Social Work with a master's degree in clinical social work as an advanced standing student.
He began his counseling career at Catholic Charities Behavioral Health Services of the Archdiocese of New York in their Washington Heights/Inwood Clinic while he continued his graduate studies. In his role as clinician, Mizraim developed his skills in working with community partners to meet the needs of young children and families in New York City. After six years of service, he was hired as the social services director at the Kingsbridge Heights Community Center (KHCC) Early Childhood Division in the Bronx, N.Y. In 2005, Mizraim graduated from the Columbia University Executive Business School's Not-for-profit Management Program. A year later he was promoted to department director for Early Childhood at KHCC.
In February 2008, Mizraim relocated his family to Colorado. He was administrator of Adams County Head Start under the Community & Economic Opportunity Department. Beginning January 2010, Mizraim began serving as the Intergovernmental Relations manager for the City of Commerce City. There he provides leadership and vision to Commerce City by developing, administering, reviewing and monitoring community relations procedures and programs; coordinating federal and state legislative issues and supervising the efforts to secure alternative funding through grants.