Anythink Foundation: What we support
Funds raised by the Anythink Foundation support programs and services in four key areas:
Capital projects
Public art
Expansion of collections
Exceptional programs, activities and computer education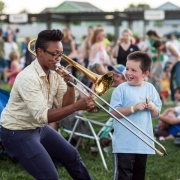 Backyard Concert Series
Each summer, the Anythink Backyard Concert Series brings eclectic music to the backyard at Anythink Wright Farms. This free, family-friendly event helps bring the community together through music the second Friday of the month, June-August. Funds raised through food and beverage sales benefit the Anythink Foundation. Some of the past bands include Blue Canyon Boys, Chimney Choir, Gora Gora Orkestar, Dan Treanor's Afrosippi Band and more.
Nature Explore
The Anythink Foundation, along with Adams County Open Spaces, and generous individual donors helped to launch the first Nature Explore outdoor classroom at Anythink Wright Farms in Thornton, Colo. These unique outdoor spaces connect children with nature in a way that supports creativity and learning. With spaces for making music, performing, building, and playing, the Nature Explore outdoor classroom is a natural extension of the play and exploration that happens within the library walls. 
This is Who We Are
Anythink's collaborative public art project "This is Who We Are" partners community members with local artists to create public art pieces that represent the fabric of the community. The first project launched at Anythink Bennett in December 2011 with the help of funds raised by the Anythink Foundation. 
This unique project brought people together to create an incredible art piece that lives on in the library. Plans are underway to launch similar projects at each of Anythink's locations. Through individual contributions and the help of the Anythink Foundation, each local Anythink will include a piece of art that reflects the spirit of the community it serves.